Cwmbran Hog Roast Hire and Wedding Hog Roast caterers Pontypool !!
Hello and welcome all hog roast followers. Last night we provided two Hog Roasts one in Cwmbran and the other in Pontypool. The Cwmbran Hog Roast was held at the football factory Cwmbran and the Pontypool hog Roast held at a private house party.
Lucky enough for the hog roast team, the rain has stopped and the weather was fine. This has put a smile on the chefs faces going in an out of different venues.  The Hog Father buffet was the menu of choice in Cwmbran and it had 120 guests coming back up for seconds and thirds…. The crackling was crispy and so tasty !!
All of the guests were very welcoming and we already have had enquiries today from a few of the guests at the event. We are very fortunate that it's only February and the 2013 diary is over 60% full. Bella's Catering Services love to cater for any event and provide customers with an outstanding experience.
If you want the team to  cater for you; we supply the food for you and your guests at any event you like. We give our upmost care, dedication and 5 star services. We provide an outstanding buffet and a help yourself service so you and your guests can have very generous portions.
We are looking forward to March and then Easter bank holiday weekend for our first bank holiday Hog Roast of 2013.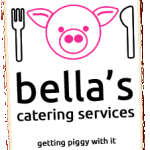 You can have a look at our newly updated hog roast menus
Please keep up to date with the latest Hog Roast offers on www.twitter.com/BellasCatering
Have a look at our Hog Roast photos on www.facebook.com/bellascateringservices
You can leave us Hog Roast feedback on www.freeindex.co.uk
Do you fancy a hog roast during 2013 ? We only have a few spaces left in the diary so please contact the team before it's too late …..  click here